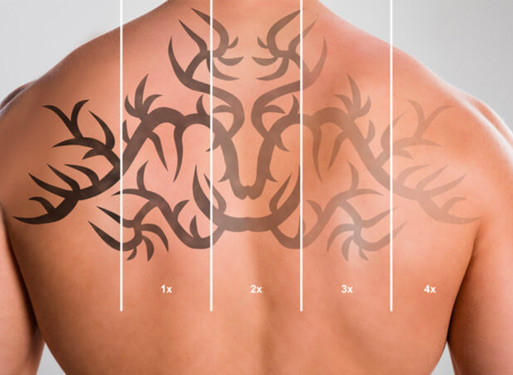 At Bodilight we use specialised laser technology to diminish your unwanted tattoos. The treatment is simple, safe, and effective.
Tattoos have never been as popular as they are now and as their popularity continues to grow across all aspects of society, more people will wind up with a tattoo that they regret. Whether you want to get your tattoo removed one year on or forty years on, you don't need to sit through hours of painful laser treatment. Our laser tattoo removal is fast and safe producing fantastic results.
The advanced technology works by allowing the light produced by the laser to pass through the skin and break up the tattoo ink into tiny particles which then the body disposes of these fragments via its immune system.
We are here to provide you with the highest standard of pre-treatment, treatment and post treatment care to support you through your tattoo removal journey.
How does it work?
Madison Chandler
2023-06-19T19:56:05+00:00
Nd-Yag Q-Switch laser delivers specific-wavelengths of light extremely quickly (in nano-seconds) at a very high energy. These pulses are selectively absorbed by the tattoo pigment, shattering it into tiny fragments small enough for the body to recognise the particles as a foreign object, and over the next several weeks some of particles (in shallow cuticle) are discharged from the body and the other part (in deep tissue) are absorbed and digested by the body's macrophages and removed out of the body by the immune system.
Laser Tattoo Removal
I opted to have Laser tattoo removal treatment on an old tattoo I had done 20+ years ago when 'tribal' type tattoos were all the rage! The laser treatment was quick and effective and I could see results quite quickly. The results after 5 treatments are amazing! As always at Bodilight, the team are professional, warm and friendly. There's always a smiley face to greet you and the service is impeccable. I can highly recommend the laser tattoo removal and many other treatments at Bodilight.
For optimum results we recommend booking a course of a minimum of 6 treatments. The prices shown are an indication, however during you consultation your tattoo will be assessed by a specialist who will advise you on your suitability, expected results and predicted number of treatments. 20% saving when purchasing 6 or more sessions. Maintenance prices will follow after a course of 6 sessions.
| | |
| --- | --- |
| Treatment | Price |
| Consultation | FREE |
| Test patch | £20 |
| Very minor area (0-3cm) | £60 |
| Minor area (4-10cm) | £90 |
| Intermediate area (11-15cm) | £150 |
| Major area (16-20cm) | £190 |