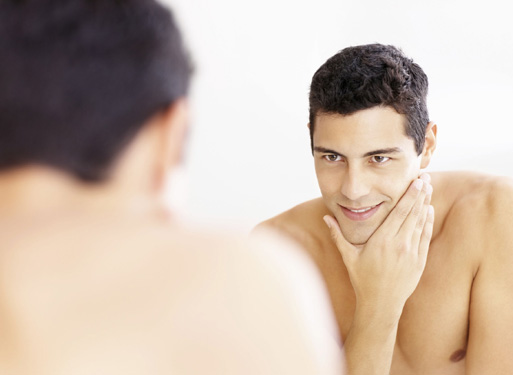 Microdermabrasion is a form of skin resurfacing (or skin peeling). It is non-invasive and non surgical. It is a superbly effective treatment that mechanically exfoliates the skin with micro-crystals removing dead cells, improving skin texture and smoothing away irregularities. Microdermabrasion also acts to stimulate the production of fresh new skin cells and collagen.
Best of all, the treatment delivers instant and remarkable results. After your first session, your skin will have a fresh pink glow and a smoother feel. With continued treatments, you will notice a significant reduction in the appearance of fine lines, acne scars, age spots, enlarged pores and uneven pigmentation. Before long, your skin will look softer, smoother, firmer and younger.
Microdermabrasion is a fully tested procedure that has been used safely and successfully in the USA for many years and is now becoming very popular in the UK. It's pain-free and suitable for both men and woman and beneficial for a broad range of skin conditions.
What should I do before starting treatment?
Madison Chandler
2023-06-19T18:51:59+00:00
To achieve the best results and avoid unwanted after effects, it is advisable to adhere to the following:
A full consultation with a practitioner is required to assess your suitability and to answer any questions you may have. The consultation is free and treatment can be carried out on the same day. A sample treatment may also be performed on your hand to verify the painlessness and effectiveness of microdermabrasion.
Discontinue all AHA, Glycolic products, and any exfoliating products for a minimum of three days prior to treatment and cease usage for the duration of your treatment course.
Discontinue all Vitamin A, Renova or similar products for three weeks prior to treatment and post treatment. Do not use for the duration of our treatment course.
If you are prone to severe cold sores, it is advisable to obtain a prescription from you doctor for anti viral medication which should be started at least 1 day prior to treatment.
Avoid facial fillers or Wrinkle Relaxers for 14 days prior to treatment. Ensure the skin has completely settled and returned to its normal state post treatment before having facial fillers or Wrinkle Relaxers.
A prescribed homecare range can be recommended to enhance your in-clinic treatment and help to achieve further benefits.
Microdermabrasion
Wow! Is all I can say after having microdermabrasion my skin looks brighter and healthier. You can actually feel it working. My skin now looks and feels great!
Barbara, aged 43 – Milton Keynes
Microdermabrasion & skin peel combination
I had suffered with acne from the age of 18. I had been to my doctors and tried every pill and cream that was available, but none of them seemed to work. Since having a course of microdermabrasion and skin peels, the changes have been unbelievable. It has boosted my self confidence enormously. My skin has never looked or felt so clean and blemish free. I am so grateful.
Michelle, aged 22 Milton Keynes
Microdermabrasion
I had microdermabrasion and skin peel to treat pigmentation on my face. I am very happy with the result. I had been so aware of the patches since my last pregnancy and people would often comment and ask what they were. The staff at Bodilight are excellent, very supportive and professional and take great care with their consultation, treatment and aftercare. I have no hesitation in recommending their services to everyone.
Val, aged 56 – Newport Pagnell
Microdermabrasion & skin peel
My nose has always been heavily smothered in blackheads and my cheeks were full of open pores, which almost looked like pitting caused through acne. After a single treatment my nose looked clearer and my open pores appeared smaller. I have since had 3 further treatments and have loved the effects. I now have a treatment once every 8 weeks or so to maintain the results and prevent congestion.
WOW !- Half price maintenance sessions, after a course of 6 treatments.
Bodilight is the only clinic offering reduced price maintenance treatments! Complete a recommended course of 6 of the same treatment and be assured that all future sessions will be charged at no more than half of the original cost of treatment.
Please note the huge saving you can make when you pre pay for a treatment course of 6 sessions.
Medical Microdermabrasion
Per Treatment
Course of 6
Saving
Full face
£79
£379
£95
Face & neck
£99
£475
£119
Upper arms
£99
£475
£119
Chest
£109
£523
£131
Full back
£159
£763
£191
Medical microdermabrasion and Skin peel combination
Per Treatment
Course of 6
Saving
Full face
£109
£524
£130
Face & neck
£124
£596
£148
Upper arms
£129
£619
£155
Chest
£149
£715
£179
Full back
£189
£907
£227
Epionce Light Refresh Skin peel
Per Treatment
Course of 6
Saving
Full face
£73
£351
£87
Face & neck
£79
£379
£95
Upper arms
£79
£379
£95
Chest
£89
£427
£107
Full back
£109
£723
£131
Bodilight live and breathe the beauty industry and offer the very latest cutting edge treatments, carried out only to the very highest standards. Below you'll find a range of specialist aesthetic treatments we offer.