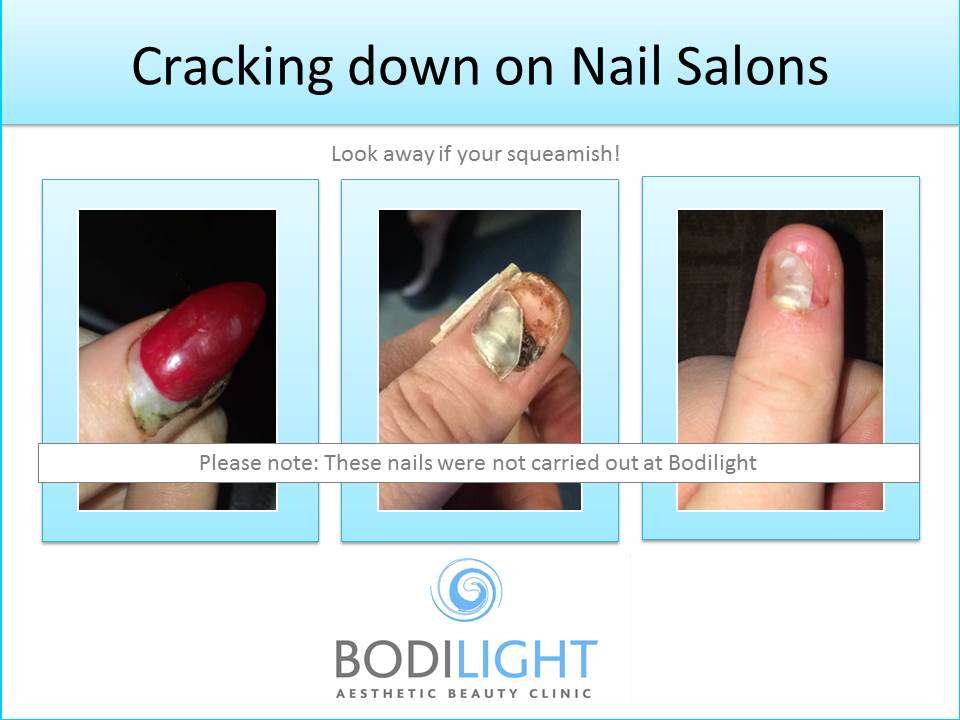 Cracking down on Nail Salons!
Posted on January 18th, 2023
Share This Article
Now the Christmas period is well and truly over & January is in full swing we can't help but think how quickly time seems to fly now a days!  The fact is our lives are so busy with working, housework, social commitments as well as children and their social lives, clubs and long school days.  Trying to fit any time in for ourselves seems a task in itself!  However it has to be said looking back over the years the beauty industry has become more of a necessity than a treat.  Gone are the days of a 'quiet' period for us in the trade.  In fact us ladies in particular are more than ever making beauty maintenance appointments every 2/3 weeks (sorry guys, but the likely hood is your wife is in on this too).  Whether it is a fresh set of nails, lash extension infills or eyebrow treatments our upkeep is up there on the list of priority.
The worry is there is still a large percentage of us who struggle to find time/money for ourselves leading us to cheaper/quicker alternatives.  It's no secret that the nail industry in particular has huge competition with nail bars popping up all over the place that will allow for walk in appointments and for a significantly reduced rate.  A recent article printed by 'The Professional Beauty exhibitors' has made us question the lengths people will go to, cutting corners their own health and safety when it comes to getting their nails done.
As any beauty therapist working in a busy salon we appreciate throughout December trying to get treatments booked in ourselves is near on impossible, so when our very own Shannon (beauty Therapist & Nail tech at Bodilight) couldn't get booked in to have her own nails done ready for the Christmas period, she made the decision to go to a walk in nail bar in Milton Keynes.  She waited 20 minutes before she was seen by a young Chinese lady wearing a mask.  She described all of the nail technicians in the salon wearing masks yet it wasn't explained why this might be.  Shannon chose to have a full set of acrylic extensions & asked for them to be a good length & pointed in shape. The nails looked half decent, although she explained she experience no real service or client conversation along with the delivery of the treatment, but Shannon was pleased- she had fresh nails for Christmas! It was on New Year's Eve when disaster struck – Shannon had a fall and she knocked her nail as she landed. Shannon ended up in A & E; she had seriously damaged her nail and nail bed. It quickly became infected and she ended up on a course on antibiotics.
What had happened was directly a result of a dangerous acrylic product that was used by the nail salon.
The nail salon Shannon visited like many of the Chinese/Vietnamese run nail bars use a very dangerous product to produce acrylic enhancements.  Had Shannon's acrylic enhancement been applied at Bodilight, using the correct products and procedures, instead of her nail being ripped from her nail bed, our products would have cracked, relieving the pressure from her own natural nail thus the enhancement being damaged but not the nail underneath.
Methyl methacrylate, or MMA, originated in the dental industry for making crowns and bridges. It is also used as bone cement by orthopaedic surgeons during joint replacement procedures & in some flooring products. This chemical is not designed to come into contact with skin or nails.  Your dentist would have to order your permanent crown to be made and controlled in a lab by properly trained technicians.
In the late 1960s and 70's, some nail technicians began using MMA for acrylic nail services because it was much less expensive than the safer alternative, ethyl methacrylate.
MMA is not recommended for use in acrylic nail products because it is much too hard, and can tear the nail off the finger easily. It is also solvent resistant, which makes it very difficult to remove. It takes a long time to remove MMA when soaking in acetone. Many technicians damage the nail plate when prepping for MMA using hard drills, since that product needs grooves in the nail in order to stick well.
As a senior nail technician at Bodilight it is my priority to protect and preserve the natural nail under any enhancement product.  MMA should not be used in nail products because the FDA has deemed t unsafe for that purpose.
So you see it is not acrylic nails that are the problem it is the nail bar/salon and its technicians that will be the danger to your nails! As a result of Shannon's damaged nail she was & still is affected at work, the injury has left her unable to perform certain treatments, a far bigger cost than she could of anticipated all in aid of a quick nail appointment!
Nail salons have been in the news this month, highlighting that there are things to consider when choosing your nail salon. The products they use are one factor, but in this article it we realise that many nail bars are operating illegally. Find out more here…..
http://professionalbeauty.co.uk/site/PBHubNewsDetails/government-cracks-down-on-suspected-modern-slavery-in-nail-salons