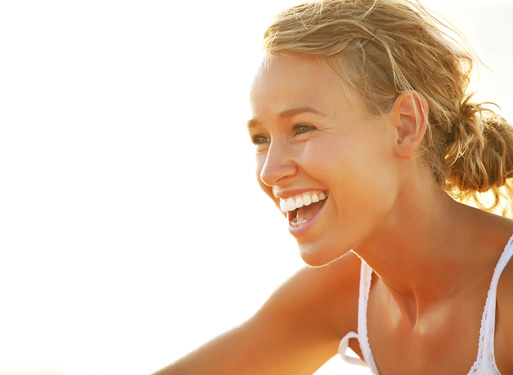 Wrinkles are caused by everyday factors like sun damage, smoking and facial expressions including laughing, squinting or frowning.
As you get older the elasticity of your skin reduces too, and wrinkles naturally form. Facial fillers can help to reduce fine lines, wrinkles and folds for younger looking skin, without the need for surgery. Injectable treatments are often used to slow down the effects of ageing and as a non-surgical alternative to a facelift or browlift. The main benefits of facial filler injections are as follows:
Smoothes out lines/wrinkles around your mouth, eyes, nose & forehead.
Lips have a greater volume and fuller appearance.
Softens the appearance of tear trough hollows under the eye.
Gives your mouth a fuller and more sensuous form.
Smoothes out uneven shaped noses.
Restores volume in the mid and lower face.
Cupid bow enhancement.
Subtle Brow lift.
Cheek and chin dimples filled out to enhance your facial contour.
Corrects receding chins.
At Bodilight our Doctor is extremely experienced in the application of these truly amazing anti-ageing products. He is particularly noted for achieving a very natural appearance for his patients as well as being able to appreciate a patient's goals and motivation which are so critical for tailoring an appropriate treatment plan.
Although the consultation and procedure can be carried out on the same day for these particular treatments, we offer a no-obligation free consultation for all of our services.
What fillers do you use at Bodilight?
Madison Chandler
2023-06-19T19:36:12+00:00
All of the products used at Bodilight contain non-animal, stabilised hyaluronic acid. Because hylauronic acid occurs naturally in the body and is present in all living organisms it means that once in the skin, it works together with the body's own hyaluronic acid and joins forces to create volume. No pre-testing is required.
Facial filler (lip enhancement)
My top lip was much thinner than my bottom lip. It was something that I have always disliked and so I decided to do something about it. Restylane was injected into my top lip. I was given a local anaesthetic so I hardly felt a thing. My lips now look even and balanced. The Doctor assured me that the result would be natural and it was. Thank you so much!
Doreen, aged 50 – Milton Keynes
Facial filler (Y lift)
I had lost a lot of weight in my face and had what is known as the "Y Lift". The results have been amazing. My friends and family have commented on how well I look. My confidence is finally back. My experience with Bodilight has been exceptional. Thank you for putting the smile back on my face.
Kim, aged 50 – Milton Keynes
| | |
| --- | --- |
| Treatment | Price |
| Aesthetician Consultation | FREE |
| Doctor Consultation | £50 (redeemable against treatment) |
| 1 Syringe | £259 |
| 2 Syringes | £475 |
| 3 Syringes | £650 |
| Sculptra |   |
| 1 Vial | £400 |
| 1 Vial | £700 |
| Radiesse/Sub Q |   |
| 1 Vial | £450 |
| 2 Vial | £750 |