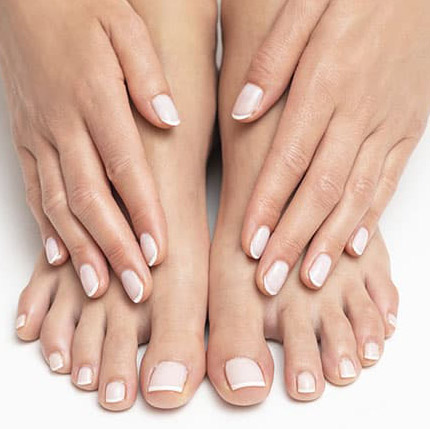 Pamper your fingers and toes to perfection with Bodilight's range of manicure and pedicure services including a mini, classic and deluxe treatment.
Experience the best chip-free manicure/pedicure with brands Shellac and The Gel Bottle. Both offering up to 14 day mirror shine, instant dry nail colour. With over 100 colours to choose from we are sure there is something for everyone and every occasion.
As well as natural manicures, Bodilight specialist nail technicians provide nail enhancement treatments using tips, overlays and sculptured techniques. Top brands creative and NSI are used to create beautiful nails to any shape and length you desire without the use of drills.
Nail Treatments
Had my nails done on Monday and now back for a spray tan! I wouldn't go anywhere else! Thank you to all the girls at Bodilight, you are always perfectionists and complete professionals.
Wendy aged 45, Milton Keynes
Nail Treatments
Love getting my nails done at Bodilight, literally the best! I have recommended to so many people. Thank you.
Harriet aged 23, Haversham
Nail Treatments
I come to get my nails done every 2 weeks and love coming here! Everyone is so friendly and helpful and my nails always look fab!
Jo aged 34, Newport Pagnell
| | |
| --- | --- |
| Treatment | Price |
| Gel Manicure/Pedicure (Includes: Cuticle work, File, Buff & Gel Finish) | £38 |
| Builder Gel (Includes: Cuticle work, File, Buff , Builder Gul base & Gel Finish) | £45 |
| Gel repair (FREE within first 7 days) | From £1.50 |
| Feature Nails Foils, Stamps, Chrome, Rockstar, Nail art | From £10.00 |
| Express Manicure (File, Shape, Cuticle work, Nourishing finish) | £30 |
| Classic Manicure (Hand Soak, File, Cuticle work, Exfoliating scrub, Massage and Gel Finish) | £45 |
| Deluxe Manicure (Hand Soak, File, Cuticle work, Exfoliating scrub, Heated conditioning treatment, Massage and Gel Finish) | £55 |
| Express Pedicure (File, Shape, Cuticle work, Nourishing finish) | £30 |
| Classic Pedicure (Foot Soak, File, Cuticles, Exfoliating scrub, Foot rasp, Massage and Gel Finish) | £45 |
| Deluxe Pedicure  (Foot Soak, File, Cuticles, Exfoliating scrub, Foot Rasp, Heated conditioning treatment, Massage & Gel Finish) | £55 |
| Gel Enhancements (Extensions)- no drills used | £60 |
| Acrylic Enhancements (Extensions) – no drills used | £60 |
| Acrylic Overlays (Natural Nails)- no drills used | £55 |
| Acrylic Infills – no drills used | £45 |
| Acrylic nail repair p/nail – no drills used | £5 |
| Nourishing Acrylic removal | £30 |
| Bodilight Gel removal (when applied with a new set) | Free |
| External Gel Removal (with or without a new set) | £25 |
|   |   |
| Senior Nail Tech rate  | +£5 |
|   |   |