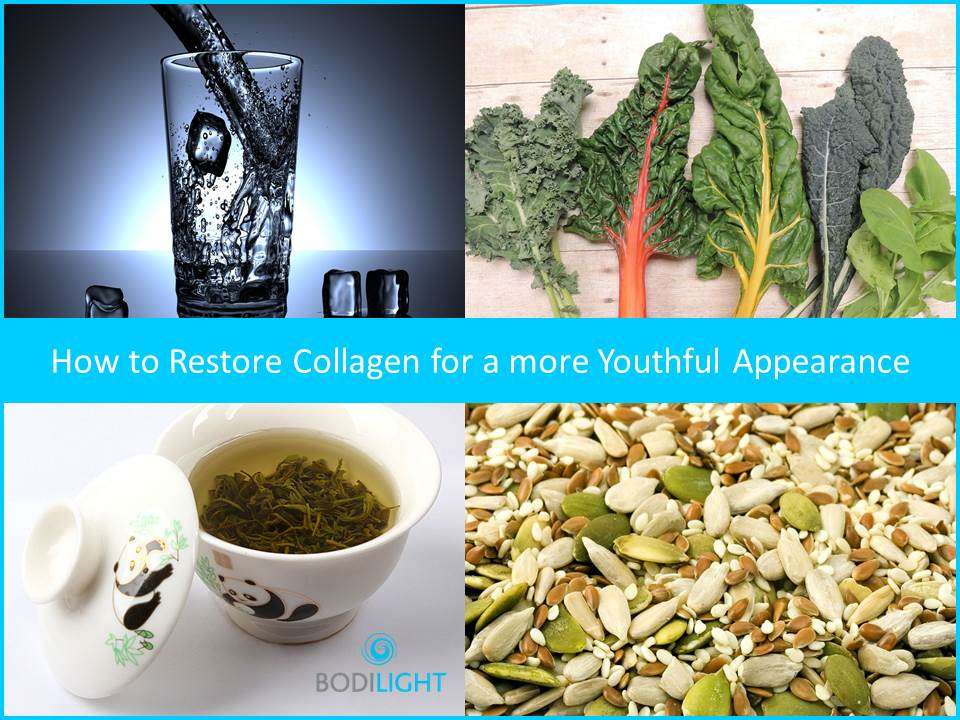 How to Restore Collagen for a more Youthful Appearance
Posted on February 7th, 2023
Share This Article
Collagen is an important protein that helps to create the main structural component of your skin. It is responsible for keeping your skin looking plump, smooth and youthful. It's what keeps wrinkles and fine lines at bay. Unfortunately, as we age, it breaks down, decreases and our skin becomes more saggy, wrinkles appear and sun damage becomes visible. By around the age of 30, your skin loses about 1.5 percent of its natural collagen and by the age of 40 it loses around 15 percent. All is not lost though and the good news is that there are ways of restoring it.
So here are a few things you can do to help. As we all know water is good for everything. Drinking up to ten glasses a day will flush the toxins from the skin and promote collagen fiber formation.
Eat a lot of green, leafy vegetables like spinach and kale, which contain a high content of Vitamin C and lutein, both which help collagen production.
Cut down on black tea and coffee and drink green tea. Green tea contains flavonoids which is an antioxidant that helps fight against free radicals which break down collagen fibers.
Unsaturated fatty acids such as those found in nuts, flaxseed and salmon and tuna promote the production of collagen.
In addition, you can take a daily vitamin E supplement. Vitamin E is essential to collagen reproduction by providing the supporting nutrients needed by your body to produce collagen.
Apply a vitamin A-enriched moisturiser to your skin on a daily basis. Vitamin A is responsible for the formation of collagen fibres. Here at Bodilight we have researched the perfect skincare product, which combines both vitamin A and bovine colostrum. Environ's Intensive Range contains the perfect ingredients to help improve the appearance of uneven skin, refine skin texture bringing back that firmer, smoother texture and reduce premature aging and fine lines. Contact Bodilight to discuss and purchase this amazing skin care range.
Alternatively, we offer a non-invasive skin peel Agera Rx. It treats aging skin, acne and unwanted pigmentation. These unique peels provide quick results without causing unsightly skin shedding, redness or irritation. The Agera Rx penetrates the skins pigment cells to gently yet effectively reducing the appearance of pigmentation discolouration creating a more even skin tone. The treatment stimulates cells deep in the skin to promote the production of collagen and elastin which helps to eliminate those unwanted fine lines for a firmer more radiant appearance. Following up with the daily use of Agera Rx home care products you will maximise and enhance your results.
Microdermabarasion is another effective, pain free form of skin peeling which we offer. It is becoming very popular in the UK and is suitable for both men and women and is beneficial for a variety of skin conditions. The treatment mechanically removes dead cells, improving the skins texture and smoothing out irregularities. It also stimulates the production of fresh new skin cells and collagen. Again it is non-invasive and delivers instant impressive results. Just after your first session you will notice a significant reduction in fine lines, acne scars, age spots, enlarged pores and pigmentation. It will not take long for your skin to be looking firmer and more youthful.
You may also choose to opt for a filler injection treatment. Fillers are very effective and you can see immediate results. They plump out the skin and add proteins which increase collagen production. The treatment results do wear off so require upkeep injections.
So as you can see there are many options available. Why not slow down the aging process if we can?! Please contact Bodilight to discuss a no-obligation free consultation to decide which is the right option for you.