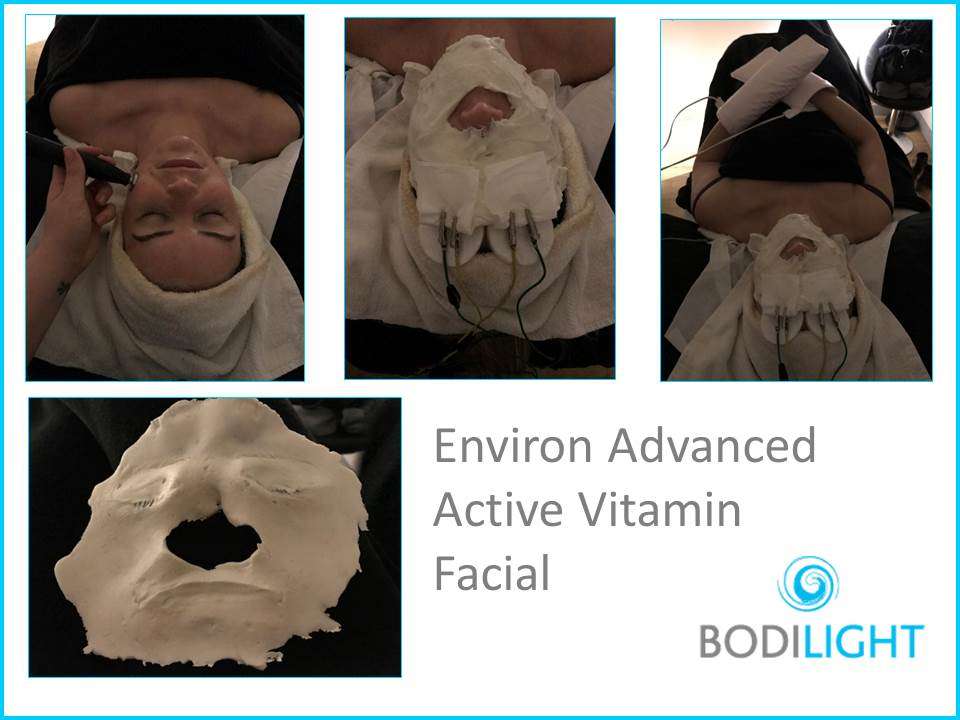 Environ Advanced Vitamin facial @ Bodilight
Posted on February 14th, 2023
Share This Article
Mention facials and for most people the image conjured up involves aromatherapy oils and lots of relaxing massage. While that's truly lovely, beauty addicts like me want instant results as well as some much-needed chill out time.
Step forward, the advanced active vitamin facial by Environ. Using cutting-edge technology, including electrical pulses and sound waves, this is as far from your traditional facial as you can get, and is a firm favourite with celebs such as Sadie Frost, Hilary Swank, Elle Macpherson and Sienna Miller.
You may not be familiar with Environ as you can only buy their skincare products from selected professionals. A South African brand, the main ingredient their products focus on is vitamin A, which is essential for skin health. Environ uses vitamin A in much larger quantities than most other brands; so much so that their products have a step-up system, whereby you start at Level 1 on a low vitamin A dose, gradually working your way up to Level 5.
So after work, one cold, rainy Friday, I head along to Bodilight to see exactly what this facial can do for my skin. The aesthetician carrying out my treatment, Liberty, starts by conducting a thorough skin consultation and asking what results I'd like to see. The great thing about this facial is that although the technique is the same, the wide range of product options allows it to be tailored to your particular skin type. Liberty selects the colostrum gel to help calm my sensitive skin.
Liberty begins with an eye cleanse, followed by a pre-cleanse and a regular cleanse. Next, is a non-granular exfoliation (i.e. an exfoliator that uses acids/enzymes instead of little scrubby particles). I've started using non-granular exfoliators more and more recently – I think the results are just as effective as traditional granular exfoliators but with less risk of causing damage to the skin by over-zealous scrubbing.
So far, fairly normal. However, the mini-peel uses the Environ Ionzyme machine to drive the vitamins much, much deeper into the skin than traditional methods using an electrical current and sound waves. This isn't at all uncomfortable, it creates a tingling sensation, which I actually found quite enjoyable.
Next is the really unusual part. A really thick mask is applied which Liberty warns me will feel really cold. The mask can be applied all over your eyelids and mouth, leaving just your nose uncovered, and sets into a rubber. If the thought of this doesn't appeal you can opt to have your eyes and mouth left uncovered but, never one to back down from a challenge, I leave just my nose uncovered. I find the fact I can't open my eyes and mouth really relaxing but then I also find small spaces really relaxing so maybe I'm just a bit odd!
The mask conducts the electrical current from the Ionzyme machine and drives the vitamins deeper into the skin. You can hear a faint high-pitched noise while the current is on – a bit like the noise you can sometimes hear from a TV and some people (me included) see flashing lights (not as scary as it sounds)!
While the mask is on, Liberty massages some oil into my hands and pops on a pair of heated mitts which is very welcome as my hands get ridiculously dry at this time of year.
Despite the unusual elements of this facial I still find it really relaxing, with low lighting and soothing music (although as most busy mums will tell you, the chance to lie still for an hour without being asked a question every five seconds counts as relaxation in itself).
Once the mask has worked it's magic, it is carefully peeled off in one piece, with an entertaining imprint of my face! Liberty finished by applying a serum to help protect my skin.
'm really curious to see the results and had expected my skin to look quite red due to the mini-peel. However, the treatment has actually reduced a surprising amount of the redness from my sensitive skin and the texture of my skin feels amazing – easily the best and most instant result I've had from a facial.
If you're local to Milton Keynes you can experience the Environ Advanced Active Vitamin Facial for £79 at Bodilight, who are based at The Hub (and helpfully have convenient and free parking at Sainsburys). You can also opt for a 'classic' version of the facial (minus the mini-peel) for £59 and an 'express' version for £49.
For this week only (w/c 13/02/17) you can experience any of the Environ facials with Rianne for a massive 50% discount – what better excuse do you need to treat yourself?
Beauty Geek x